BVB: Corona treatment center opened in the Westfalenstadion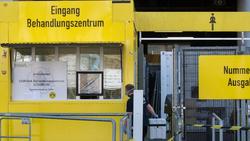 On the first day of the Coronavirus treatment center in the Dortmund Westfalenstadion, the new offer was still accepted with caution.
On Saturday afternoon, only a few people came to the north stand of the Signal Iduna Park to be tested for the corona virus.
    
The new treatment center has been available since this weekend. It is operated by Borussia Dortmund together with the Association of Statutory Health Insurance Physicians of Westphalia-Lippe (KVWL). A similar facility already exists in Dortmund. Around 2500 people have been treated there in two weeks. According to the KVWL, it urgently needed additional capacities. "It is our duty and our wish to do everything in our power to help these people," said a statement. The center in the BVB stadium is open daily Open from 12pm to 4pm. A registration is not necessary. The premises can also be made available on weekends, as the Bundesliga is currently paused due to the coronavirus pandemic, otherwise the hit game Borussia Dortmund against FC Bayern Munich would have taken place on Saturday.