Does FC Bayern reach deep into their pockets? Bayer Leverkusen does not expect Kai Havertz to lose market value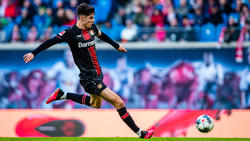 Kai Havertz's poker is picking up speed. The 20-year-old could leave Bayer Leverkusen this summer. FC Bayern Munich is the favorite for the transfer. But BVB and Liverpool are also said to have kept an eye on the Bundesliga star.
Bayer does not expect market value loss to happen abroad for Kai Havertz Völler suggests Havertz to remain Havertz wants to join Bayern Bayern advisor believes in Havertz to remain Bavaria doubts about mega price tag by national player Kai Havertz with no loss in transfer fee. "Kai is a top player," said the 55-year-old at "Sky Sport News HD": "Top players stay valuable because there are not many of them. I assume that the losses in market value are not reflected in the transfer fees for top players. " Coach Peter Bosz had only put a price tag of "more than 100 million euros" on his star player in mid-March. It is clear that "other clubs would be happy" to have a player like Havertz in their ranks, Carro explained: "But we are still happy to have him and would of course like to keep him with us for as long as possible. You have to do this but also respect the player's wishes. "Havertz, whose contract with the Rhinelanders runs until 2022, is associated with numerous top European clubs in addition to the German champions FC Bayern. He sees a move abroad as an option. "I am ready to take a big step and I like challenges. For me, that also includes going abroad," said the offensive midfielder of "Sportbild", although he left open when he wanted to leave the Werkself. "Leverkusen is a great club, I feel good. I always said that," said Havertz: "But I want to take my next step in my career at some point. That is my aspiration." Update 15.04.2020, 07:07 amKai Havertz from Bayer Leverkusen has explicitly described moving abroad as an opportunity. "I am ready to take a big step and I like challenges. For me, that also includes going abroad," said the 20-year-old midfielder of "Sport Bild". Havertz still has a contract in Leverkusen until summer 2022, and Havertz cannot understand that the media even reported that he had decided against moving abroad. "I often wonder what others seem to know about me." A change after this season was considered safe until the Bundesliga break. He feels comfortable in Leverkusen, it is a great club, said Havertz. "But of course I want to take my next step in my career at some point. That is my claim." FC Bayern is generally considered to be a great prospect for a transfer. The German record champion was reportedly far too large for the transfer fee targeted by Bundesliga rival Leverkusen. Coach Hansi Flick is considered to be an admirer of the offensive player.Update 11.04.2020, 09:22 am Rudi Völler is currently calm about advertising for Leverkusen national player Kai Havertz, both club, consultant and the 20-year-old Bayer professional dealt relaxed with the current situation "He is the best German player of the next ten years and nothing will change. We are glad that we have him – now and maybe next season," said Völler. The offensive player's contract, which once again showed strong performances from the season interruption, expires at the end of June 2022. Update 04/09/2020, 08:15 a.m.After "Sky" a few days ago claimed that Bayern was still for Kai Havertz " before an option ", the broadcaster now goes a step further and explains in person from" transfer expert "Marc Behrenbeck:" Flick wants Havertz, Havertz wants to Bayern, everything depends on the financial in the end. " Due to the high price tag, the probability of a deal would only be "50:50". "Leverkusen expert" Marco Wiefel, on the other hand, "does not expect Havertz to move to Munich this summer." So it stays with the often quoted calculation: Nothing is known for certain. A move to England is also possible for Havertz according to the "Sky" information. The national player can imagine a commitment on the island, it is said. Update, 31.03.2020, 09:15 a.m.After the "kicker" last reported that Kai Havertz does not want to switch to Bayern, "Sky" now wants to have learned that the German record champion is "still an option" for the international, but negotiations between the midfielder from Leverkusen and Bayern are currently on hold due to the coronavirus crisis. So the decision is where Havertz will go in the summer still completely open. The only thing that is certain is that he wants to leave the Werkself at the end of the season to take the next step in his career. In addition to FC Bayern, Real Madrid and Manchester United are also vying for the services of the 20-year-old youngster, but due to the Corona crisis, the report says that a club will not be willing to spend over 100 million euros for Havertz The next turn in poker to Kai Havertz: According to "kicker", the international does not want to switch to Bayern. The Munich residents are still very interested in Noch Leverkusen, but the 20-year-old is not drawn to the Isar. The record master is not the "dream goal" of the exceptional talent, writes the magazine. The so often cited "elbow company" on Säbener Straße is said to have prompted Havertz to make this assessment. The catch: The "kicker" reports that FC Bayern could be the only change option for Havertz in summer 2020. Other clubs such as Liverpool, Juventus or Real Madrid are currently out of the question for various reasons. One reason is the high price the factory club charges. For many top clubs it is difficult to spend 100 million euros and more for a player who has not yet achieved the status of a superstar internationally. As of today, the "kicker", Kai Havertz will not leave Bayer Leverkusen in the summer – at least not for the € 100 million hoped for by the club, and there is currently much more to suggest that the 20-year-old will renew his contract (until 2021), but in return he will be assured of an exit clause. A model that RB Leipzig also used for Timo Werner. In this case, the midfielder could become interesting for significantly more clubs in the summer of 2021 and more or less choose his future employer. Update, March 25, 2020, 8:50 a.m. Although prices on the transfer market could tumble in the wake of the coronavirus pandemic, Bayer Leverkusen does not appear to be moving away from its 100 million euro claim for Kai Havertz. This is reported by "Sport Bild". However, it is questionable whether interested parties like FC Bayern Munich could be put off by the current situation. The newspaper also speculates that Havertz (contract until 2022) will go to Bayer for another year Background: his good relationship with the team and with coach Peter Bosz, who always put his trust in the 20-year-old international even during his weak first half of the season.Update, 24.03.2020, 09:12: Player adviser Jörg Neblung believes that Leverkusens Shooting star Kai Havertz – like a number of other football players – may have given up his future plans due to the corona pandemic and the associated economic ramifications. "Players who are under contract in the long term are likely to rethink," said the agent, who looked after Robert Enke, among others, opposite the "WAZ". And those responsible for the Werkself should also be sure, according to Neblung, that their exceptional player will not change under value due to the recession. "If Bayer Leverkusen no longer receives € 100 million for a Kai Havertz, the club will consider whether they shouldn't for the time being hold, "said the advisor. Recently it was said in the "Sport Bild" that FC Bayern are not exactly enthusiastic due to the high transfer fee. Update 21.03.2020, 18:30 clock that FC Bayern Munich should be interested in the services of Kai Havertz from Bayer Leverkusen, haunted For months through the media, of all things, an Italian journalist, of course, now even wants to have found out concrete figures of the deal. The German record champion offers Havertz a five-year contract and offers the 20-year-old eight million euros a year, reports Nicolò Schira. However, it will be more difficult to find an agreement with Havertz 'current employer Leverkusen. Bayer should claim over 100 million euros for the German international. A sum that, according to "Sport Bild" in Munich, does not really cause a storm of enthusiasm.Bayer Leverkusen: Peter Bosz expects Kai Havertz to leave; Update 18.03.2020, 6:40 a.m. At Bayer Leverkusen, they firmly assume that Kai Havertz will leave in summer 2020 . According to trainer Peter Bosz, the works club expects a transfer of "over 100 million euros". FC Bayern officials obviously do not share this assessment, and there are no doubts with the record champions about the quality of the international. The "Sport Bild" reports that both sports director Hasan Salihamidzic and Hansi Flick are big supporters of the 20-year-old. For this reason too, the Munich-based company tried to convince Havertz to switch to the Isar in summer 2019. FC Bayern will start their next attempt in summer 2020, but as is so often the case, this transfer almost entirely depends on the money. Those responsible in Munich allegedly do not believe that 100 million euros are realistic for a Havertz transfer. In Munich there are doubts whether potential competitors such as Liverpool and FC Barcelona would actually be willing to pay a three-digit million sum for the young midfielder, claims "Sport Bild". If Bayern's assessment is true, the Leverkusen player could Desolate the wish of a 100 million transfer in summer.Update 14.03.2020, 4:08 p.m. Kai Havertz is at the top of the list of numerous top clubs when it comes to the potential summer additions. His coach at Bayer Leverkusen, Peter Bosz, is already assuming that the 20-year-old will say goodbye. "His goal-taking and goals are increasing again. He won't be able to keep going this summer," Bosz told Algemeen Dagblad: "This will be a transfer of 100 million. What am I talking about. Over 100 million." The Dutchman wants to increase the squad "to three or four positions" from the income from the Havertz transfer. Bosz is already looking forward to the upcoming changeover period: "This will be very interesting." Update 13.03.2020, 7:47 pmFirst Real Madrid, now Juventus Turin? The "calciomercato" portal reports that the Italian record champions have stopped their efforts for Kai Havertz. According to the report, Juve has been following the midfielder for many years and is still interested in signing a contract. However, the Bianconeri have allegedly decided not to take part in the betting, and since the Werkself could charge up to 100 million euros for Havertz, Juve does not want to enter poker at all. This sum is "unattainable" for the Turinese. The old lady has decided not to offer a lower price simply because of the large number of interested parties. Update 03/12/2020, 6:23 p.m. Good news for FC Bayern? The Spanish portal "El Desmarque" reports that Real Madrid has withdrawn from the poker around Kai Havertz. Reason: The German international is simply too expensive for the royal team, but Jürgen Klopp and Liverpool FC should still have good cards. Klopp could become a decisive factor in a transfer, oracle "El Desmarque". Competition for FC Bayern and BVB? Liverpool FC also wants Kai Havertz to update 18.02.2020, 8:51 a.m. Rudi Völler apparently expects Kai Havertz to say goodbye in the summer. "I'm glad that we kept it this year," said Bayer Leverkusen's sports manager at "Nitro", "we'll see what it looks like in the summer." Völler knows that it will be difficult for Havertz hold. "He still has a contract until 2022 – these are, of course, the classic facts," said the 1990 World Champion, who had to do a lot of persuasive work before the current season. "In the summer there was interest, but we explained that it was him good if he stays with us for another year, and that was the right decision. "20-year-old Havertz is considered the greatest talent in German football. The native of Aachen, however, was in a low form in the first half of the season. In December, he was even booed by his own fans when he replaced Hertha BSC (0: 1) in his home game, while apparently there was a 125 million euro offer from Liverpool by coach Jürgen Klopp. Most recently, Havertz had regained his old strength.Update 10.02.2020, 09:49 a.m.After Liverpool have spent a total of just over ten million euros on new players in the past two transfer periods, a major offensive is likely to come again this summer . Apparently there is also a Bundesliga player on the Reds' note that FC Bayern is dealing with. As the English newspaper "Daily Express" reports, Jürgen Klopp is keen to sign a new playmaker this summer in order to develop his team further. The former BVB coach is said to have named Kai Havertz from Bayer Leverkusen internally. According to the newspaper, the reigning Champions League winner wants to commit the German midfield as soon as the transfer window reopens on July 1. But the Reds are also aware that Havertz is currently one of the most sought-after players in Europe. For months, rumors have been circulating about a midfielder change to Bayern. In the past, Manchester United, as well as the top Spanish clubs Real Madrid and FC Barcelona, ​​were traded as potential buyers for the 20-year-old. According to the report, the transfer fee should be over 100 million euros. Update 09.02.2020, 16:37 clock FC Bayern apparently gets cold feet in the transfer poker around Kai Havertz. As "Sport1" reports, the decision-making bodies on the Isar are no longer in agreement about whether Havertz should be committed. While coach Hansi Flick supposedly wishes to transfer the playmaker, the bosses around sports director Hasan Salihamdzic, chief executive officer Karl-Heinz Rummenigge and his designated successor, Oliver Kahn, meanwhile have doubts about the top talent. The reluctance of the Munich team is probably primarily due to the transfer fee that Havertz would cost. According to the report, Leverkusen is currently planning revenues of around 130 million euros from the sale of its midfield jewel. The Bayern officials do not want to pay such a sum under any circumstances, and if the Rhinelanders adhere to this demand, FC Bayern could quickly say goodbye to the negotiations, the TV broadcaster oracles update 07.02.2020, 10:23 at FC Bayern Munich, the transfer of Leroy Sané is still a hot topic. Ex-FCB star Dietmar Hamann recommends the record champions an alternative from the Bundesliga. If Sané moves from Manchester City to the Isar in the summer, a transfer fee of over 100 million euros is expected. According to Hamann, it was not a safe venture: the 46-year-old advised against the idea of ​​"getting a player for 100 million, where I don't know, he behaved or not." On such a scale, Hamann would have another German young player in his sights from which he expects a better mentality. "Since I can have the Havertz, where I know, he will do everything to be successful," said the former international and added: "For me, he would be the number one transfer goal." What role does BVB play in Havertz poker ? Update 12/24/2019, 7:35 p.m. FC Bayern Munich may go empty-handed in advertising for Bayer Leverkusen's Kai Havertz. Borussia Dortmund should now have the best chance of signing up for the international this summer. As the portal "fussball.news" reports, citing its own information, Havertz 'consultancy agency is flirting with accommodating the 20-year-old at BVB. Background: Havertz should take an intermediate step before moving to an absolute top club – with a team that plays for titles but can guarantee him regular hours of use and can further shape him into a world-class player. In addition, BVB stars Marco Reus and Julian Brandt are vying intensively for Havertz, in particular Brandt, Havertz 'best buddy and congenial supporter in the middle of the field from Leverkusen's common times, could tip the scales in poker for the exceptionally talented player who is in demand throughout Europe From the Dortmund point of view, the fact that Havertz will probably cost three-digit millions in view of his contract with Bayer, which runs until 2022, does not make the deal impossible. Even a few months ago, the "kicker" reported that BVB was ready to end the deal a potential sale of Jadon Sancho to reinvest in Havertz. The English winger could return to the island for well over 100 million euros after the current season. Havertz himself had recently stressed that the rumors of change about him are currently "zero percent", that he is focused on Leverkusen. Update 27.11.2019 , 10:20 am FC Bayern Munich has apparently already worked out possible details of the deal in courting for Kai Havertz. As the "Sport Bild" wants to know, the Havertz camp is already negotiating with seven top European clubs. This also includes FC Bayern and FC Barcelona, ​​who should have the edge in the race for the national team and are apparently willing to pay the transfer fee of around 130 million euros requested by Leverkusen, while Barca as Havertz 'dream club of youth the national player would have liked to move to Munich last summer. At that time, however, the factory club insisted that the 20-year-old remain. According to "Sport Bild", FC Bayern even made a transfer model last year that could come into play again in the coming summer. Accordingly, the record champion would initially transfer a base transfer fee of 90 million euros to Leverkusen. The additional millions are to follow in the form of additional bonus payments. It remains to be seen whether this Munich model will be implemented. It is certain that Havertz will be spoiled for choice in a few months. In addition to Bayern and Barcelona, ​​talks with Real Madrid, Manchester City, Manchester United, Liverpool FC and Chelsea FC are said to have taken place recently.