Does the Rebic transfer to Milan break?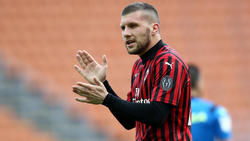 Ante Rebic is still on loan from Eintracht Frankfurt to AC Milan until the end of the 2021 season. After a catastrophic start, the Croatian recently found his way better and better at the traditional Italian club. And yet his whereabouts seem far from certain.
With six goals in the last seven league games, Ante Rebic has impressively demonstrated his value for AC from Milan and silenced his critics. And although the 18-time champions have a far-reaching change in the summer, the striker has already declared, according to "Gazzetta dello Sport", that he definitely wants to stay.
    
The catch: Milan boss Ivan Gazidis could, according to the report, ask Rebic to waive part of his salary next season in order to give the club more scope in the transfer market. According to "Gazzetta", this in turn could lead to Rebic possibly changing his mind and initially going back to Frankfurt Eintracht. In order to avoid this hurdle, the Rossoneri reportedly want to commit the vice world champion already in summer 2020. So there is no danger that the transfer will continue to rise after another good season and that Rebic will ultimately become "priceless", the Italian newspaper conjectures. However, whether players and clubs can agree on a salary and thus already agree on a change in summer 2020 is another matter.