Doll about BVB time: Klopp rumors were "not pleasant"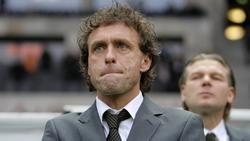 In March 2007, Thomas Doll took over the coaching position at Borussia Dortmund Should have memory. Now the coach has spoken about his time at Borsigplatz.
When he took over BVB, there was "doom and gloom" internally, said Doll in an interview with "Spox". "It was two minutes to twelve […]. We had nine games to knock the goat over and I'm glad we did it." When the former international took over Borussia, Dortmund separated only one point from the relegation ranks, under Doll the jump to ninth place in the remaining games.
    
Little wonder now that it didn't go on like this in 2007/08. "In my second season we had some injury concerns. In addition, one or the other player was certainly already above his zenith. You can't begin to compare BVB with today's BVB," explains Doll, who last coached APOEL Nicosia in Cyprus. Negatively, however, the trainer remembers his end with the black and yellow. Especially since a month before his departure and just before the cup final against FC Bayern (1: 2 nV) there were rumors that Jürgen Klopp would inherit him after the season. "It is not pleasant to hear something like this shortly before such an important game , but nobody from the club contacted me about it, "complains Doll. "Aki Watzke and I only sat down after the season and decided that a fresh start would be the best for BVB." These BVB stars made an impression On the players' side, however, Doll has noticed some personalities very positively. Dédé is "a very fine footballer", Alex Frei and Malden Petric "really good boys" and Mats Hummels also made an impression. The central defender, who was still considered a talent at the time, remained patient despite his big competitor and "has developed into one of the best central defenders in the world. I take my hat off to that," Doll sums up. Before joining BVB, Doll trained Hamburger SV, then he moved to Genclerbirligi in Turkey, the Saudi club Al Hilal, Ferencváros from Hungary, Hannover 96 and finally APOEL.