FC Bayern Munich: Flick remains Bayern coach: What happens now?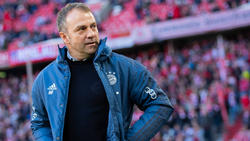 The extension with coach Hansi Flick has an impact on the squad at the German record champions FC Bayern Munich. The focus is again on Timo Werner, the transfer of Leroy Sané could finally fail.
How Leroy Sané reacted to the long-term contract extension of the German record champions Bayern Munich with trainer Hansi Flick is not known. It is clear, however, that Flick's signature further reduced the likelihood of the German international going from Manchester City to the Isar by June 2023. Flick is not considered a giant fan of the former Schalke. And the 55-year-old will have a huge say in the exciting team planning in the coming days and weeks.
    
"Hansi has a say, that's clear. The coach's opinion plays a role in our personnel decisions. He has to work with the players," said CEO Karl-Heinz Rummenigge of the Bild newspaper and added: "That's why we wanted to do it now also clarity on the coaching position before we put together the player squad for the next season in the next weeks and months. "The" kicker "had recently reported that in Munich" doubts about the mentality of this attacker, who is perfectly capable of football, are getting louder and louder " . In times of uncertainty due to the corona crisis, it is also questionable whether Bayern are embarking on the financial adventure with Sané, for which Timo Werner is moving back into focus. Flick is considered to be a supporter of the quick Leipzig, who can be used flexibly on the offensive and would therefore also be an alternative to Robert Lewandowski. Werner can leave RB in the summer thanks to an exit clause for a fixed transfer fee between 55 and 60 million euros. According to information from "Sport" Bild, however, this must be activated by the end of April at the latest. In addition to Werner, the young star Kai Havertz from Leverkusen remains an issue with the series master. "Hansi and I know in which direction we want to develop the team," assured sports director Hasan Salihamidzic. Quartet should stay with Bayern, but Bayern also have to answer a few personnel questions internally. The contracts of service providers Manuel Neuer, Thomas Müller, Thiago, David Alaba and Jerome Boateng will all expire in 2021. "Hasan Salihamidzic and Oliver Kahn are in the conversation. Our offers are extremely fair and serious – without a Corona discount," said Rummenigge stands. "Together we have set the course for the coming years. I am sure that we can achieve a lot together," said Flick, who is also well received by young players and gives youngsters a chance. Flick has young players like Alphonso Davies ( 19) and Joshua Zirkzee (18) "excellently developed", Rummenigge praised: "We want to continue on this path consistently. The three-year term should document our trust."