Formula 1 | Ferrari: Vettel "knows that he has to deliver performance"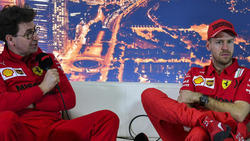 Normally Formula 1 would already contest its third Grand Prix of the 2020 season today. Instead, because of the corona virus pandemic, no wheel is spinning. And although there is a lot going on behind the scenes, some issues are rather stagnant. For example, there is nothing new about the future of Sebastian Vettel at Ferrari.
The contract negotiations have already begun, as team boss Mattia Binotto reveals in an interview with "Formula1.com". It was "important" that this question should be clarified soon: "It is not something that we will leave open until the end of the season. It is important for him and for us to have clarity as soon as possible."
    
Vettel is "in good shape", says Binotto, and "focused" – but not a compliment that doesn't sound a bit like a threat: "He knows that he has to deliver. It's a key phase in his career because he is knows that his contract extension depends on how he does in the first races. He has it in his own hands. "Quotations that fit media reports from Italy, according to which Ferrari Vettel only started with a one-year contract with drastic cuts in salary should have offered. If these reports are correct, it would of course not be flattering from Vettel's point of view, especially since Ferrari had bound its teammate Charles Leclerc to itself until the end of 2024. Binotto: Lecler's performances surprised Vettel "Charles' performance, Binotto believes, surprised Vettel. That is no longer the case now. He knows the bar and knows what to do, so I think he prepared well for the winter. He spent a lot of time trying to figure out what went wrong last year and he wants to make sure that things go better this year. "Vettel, however, is calmly watching the speculations about his future. He never made any secret of the fact that he would like to become world champion with Ferrari. However, his backgammon buddy Bernie Ecclestone would recommend a move to McLaren, and other teams could also open doors. Vettel is not particularly impressed that he fell behind Leclerc and lost his original number 1 status: "Ultimately, it doesn't matter whether he has five points more or I," he waves in an interview with 'Motorsport-Total.com' and emphasizes: "The most important thing is that we as a team are going in the right direction." Vettel: In Formula 1, it's like on the trading floor … "The questions are different after each result. As far as that is concerned, time has simply become shorter-lived," says Vettel. "If you had a bad day, everything is catastrophic until the next race. And if you had a good day, you're the biggest for weeks. It has always been like this, but the changes have become faster." "That is probably not just in Formula 1 like this, but in all areas of society, "observes the 32-year-old. "I'm not a financial expert now, but even the stock market goes up and down one day. 15 years ago, investors would have panicked with such price movements." Today, fluctuations of two or three percent are "quite normal". Whatever the case, 2020, which cannot be disputed, is an important year for Vettel's future in Formula 1. The 2019 Ferrari did not meet its driving style, has always been argued again. An excuse that Vettel no longer has in 2020: Binotto emphasizes that "the first signs" of the Barcelona test are that the SF1000 fits his driving style better … But even on this topic, the Ferrari team boss cannot avoid the explanation To sound like a threat to Vettel: "At the same time, one of the greatest skills that the best drivers have is to adjust to the car at their disposal and get the best out of it."