Formula 1 in "fragile condition"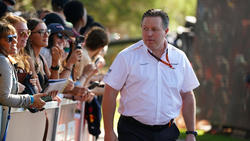 CEO Zak Brown from the McLaren racing team attested Formula 1 a "fragile condition" because of the corona crisis and warned of far-reaching changes.
The current situation is "potentially threatening for several teams," Brown told the BBC. If "enough teams – which does not necessarily mean more than two – are affected, the entire Formula 1 would also be threatened."
    
The Formula 1 bosses want to talk about possible savings on Monday. There is currently disagreement about the appropriate measures. Brown believes that the budget ceiling, which is expected to be $ 175 million by 2021, is too high. "Do I see teams disappearing if we don't aggressively tackle the current situation? Oh yes," Brown said, "Strictly speaking I see four teams disappearing if the situation is not handled properly. "In addition, unlike in the past, potential new owners would not be queuing at the moment," Brown says: "So I think Formula One is in a very fragile state "The first eight of the 22 planned races had been postponed or canceled entirely. According to the current plan, the season starts in Canada in mid-June.