Horst Heldt denies complicity in 1. FC Cologne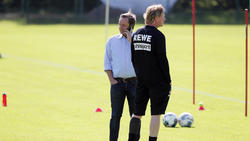 Sport Managing Director Horst Heldt does not attribute the three positive Corona tests at 1. FC Köln to mistakes by the Bundesliga club.
"Nobody from our team behaved carelessly," the 50-year-old clarified in an interview with the "Bild am Sonntag".
"The fact is: we have three infected and over 50 non-infected in our test group," said Heldt: "In this respect, we assume that the rules and measures at Geißbockheim work." Effzeh had announced on Friday evening that three people were positive have been tested. According to "SID" information, there are two players and a physiotherapist. The trio, which shows no symptoms, went into quarantine for 14 days and Heldt is not afraid of further infections. "Fear is the wrong word," said the ex-professional, "we have created all the conditions to avoid infection in the team. And we will continue to do so."