Uwe Seeler successfully operated after a fall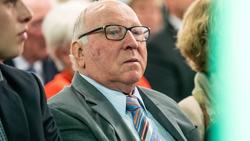 Great concern for Uwe Seeler: The Hamburg SV and several football greats in the country keep their fingers crossed for the striker idol after a serious fall for a quick recovery. As the HSV confirmed, the 83-year-old honorary captain of the German national team had to undergo an operation on Friday.
"Hamburger SV is with Uwe Seeler with his thoughts during these hours," says a club statement. He "fell heavily in his house in Norderstedt and broke his hip, among other things". On Friday evening, "Hamburger Morgenpost", "Hamburger Abendblat" t and "Bild" agreed that Seeler had come through the operation well.
Friends and companions had previously dismayed Seeler's accident. "I've known Uwe for so many years now, and I hope it doesn't get too bad or bad," Uli Stein told SID in a first reaction. One knows how dangerous surgeries are in older age: "Of course I keep my fingers crossed for him, I wish him a speedy recovery and that he comes back fit." FC Bayern sends recovery wishes His former teammate Horst Schnoor told the "Hamburger Morgenpost" that he totally shocked "by the news. "Uwe is tough, he has survived a lot," said Schnoor: "He has crashed a few times in the past." Bayern Munich coach Hansi Flick also sent best recovery wishes to the far north: "He is one of the biggest Forward Germany has had an absolute personality. I wish him all the best and all the best and hope that he will be fit again soon. "Seeler, Vice World Champion from 1966, has had to struggle with health problems in recent years. Among other things, he is troubled by the consequences of a car accident in 2010, the former striker is suffering from back problems. In 2017, Seeler successfully used a pacemaker.