For 72 million euros! Juventus bag Arthur deal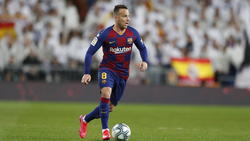 Italian football record champions Juventus Turin and Spanish champions FC Barcelona completed Monday's most expensive transfers so far.
Juventus transfers 72 million euros to FC Barcelona for the services of the Brazilian international Arthur, depending on the success, the transfer fee could even increase to 82 million euros. In return, Juves midfielder Miralem Pjanic will switch to the Catalans for 60 million plus possible bonus payments of five million euros.
Both clubs confirmed this on Monday. The huge transfer fees are to be paid in installments over four years. However, both professionals will continue to play the current season with their previous clubs until the Champions League final tournament in August, when the bills will be finalized of 400 million euros. Arthur will receive a five-year contract in Turin until summer 2025. The 23-year-old moved to Spain in 2018 from his home club Gremio Porto Alegre for 31 million euros. After the Corona compulsory break, he was no longer part of the regular staff at Blaugrana, but he was responsible for the previous record transfer in the young transfer summer before Juve top player Pjanic. So far, Alvaro Morata with his permanent move from Chelsea to Atletico Madrid (56 million euros) and Leipzig's Timo Werner with his transfer to Chelsea (53 million euros) were the most expensive players of the upcoming changeover period.