Formula 1: Silverstone onlookers will not be tolerated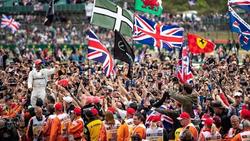 If Formula 1 is a guest at Silverstone at the beginning of August, these races will also have to take place on the track without spectators. This is precisely why there are great concerns that fans could try to get close to the venue in order to somehow experience the action live.
The local police have therefore made it clear in the case of the British Grand Prix that such an accumulation will not be tolerated and could lead to the event being canceled. The Northamptonshire police recently made a public statement.
"The organizers of the event have taken rigorous and robust measures to minimize the risk of infection and to protect race staff, event staff and the local community," it said. In the interest of the health of everyone and also of sport, these must be observed. Disobedient fans put the races at risk, because: "Any uncontrolled gathering of people in the area would endanger not only the event, but the entire Formula 1 season." Track boss Stuart Pringle had long and hard struggled for the double header, which will take place in direct succession of two weekends on August 2nd and 8th. He is now all the more emphatically supporting the police call: "The British Formula 1 fans are them most passionate in the world, but we ask that you do not try to travel to the Silverstone area on the first two weekends of August. "" 2020 is unique and so many sacrifices have been made by so many, "Pringle continues. "However, as a motorsport community, we need to work together so as not to endanger the Formula 1 season and to help Silverstone protect its neighbors." This is also to be ensured by strict controls. Police announce strict controls on site, emphasizes Dennis Murray, who oversees the race as lead commissioner: "We have full understanding that fans could be tempted to vote for the races near the Stopping the route, but unfortunately it won't be possible this year. Access to the local area is extremely restricted. "The police officer urged the fans to" enjoy these events from home as it is not allowed or even allowed it will be possible to watch from the fences ". Anyone who tries to do so will be dismissed. "Although the races are held behind closed doors, the security measures we take will be as strict as ever," Murray explains. "We are working on the circuit to ensure two safe events for participants, their teams and our local communities."