Hans-Joachim Watzke takes a position on the state guarantee for FC Schalke 04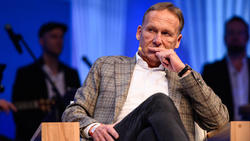 BVB Managing Director Hans-Joachim Watzke has shown understanding of a multi-million dollar guarantee for archrival Schalke 04 by the state of North Rhine-Westphalia.
"This is not honorary, knowing that the people's soul feels differently," said Watzke at a media event on Tuesday in Dortmund.
The "Handelsblatt" had reported a volume of 40 million euros. According to "WAZ" information, the guarantee committee has already positively assessed the project of Schalke, which is burdened with 197.9 million euros in liabilities (according to the 2019 consolidated financial statements), a announcement is due to be made on Wednesday. said Watzke, who understood that "the state government had intervened". The BVB boss also emphasized that there had to be "a very careful individual check" whether Schalke had "corona effects". NRW Prime Minister Armin Laschet had left reports on the state guarantee for Schalke unconfirmed on Tuesday with reference to the prescribed confidentiality. "There is no decision on any guarantee question," said the CDU politician at the Düsseldorf state press conference.