BVB captain Reus and the super talents: Dortmund's "great kickers"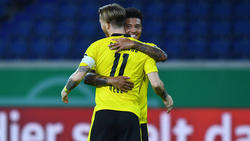 Emre Can played with Arjen Robben and Franck Ribéry at Bayern. At Liverpool FC with a magical offensive triangle that brought Jürgen Klopp the Champions League title. And recently at Juventus Turin even with megastar Cristiano Ronaldo.
But when the national player talks about his young offensive colleagues from Borussia Dortmund, his eyes shine. "It's great what we have for kickers", he said after the 5-0 (3-0) in the first round game of the DFB Cup at the third division MSV Duisburg.
Can thought of youngsters like Jadon Sancho, Erling Haaland (both 20) or Giovanni Reyna (18). And especially to Jude Bellingham (17), who made an outstanding debut and set records for the second time in a week. After becoming England's youngest U21 goalscorer the week before, he has been Dortmund's youngest scorer to score a competitive goal since Monday, and Can of course also thought of his captain Marco Reus, with whom, curiously, he has never been on the pitch at BVB would have. In Can's debut for BVB, he was substituted on for the injured Reus on February 4, who was now out. And on Monday truly returned like a phoenix from the ashes. With a goal three seconds after resuming play after being substituted on. "He waited a long time to play. But didn't wait long to score," said the strong Thorgan Hazard.Can hopes for a healthy Reus at BVB. "I saw in training that he is very, very strong ", Can explain:" I'm really happy that I was on the pitch with him for the first time. He is extremely important to us. I hope that he stays healthy this year and scores many goals. "A leader like Reus needs the young offensive if BVB wants to be a halfway equal opponent for the triple Bayern this season. But the potential of the young and wild is just as impressive as the ease with which they blend in. And their team spirit. "They are great footballers, but they also worked backwards," said Can. They did it so eagerly that mentality players like Can (26), Mats Hummels or Reus (both 31) also like to work for the young magicians. When Reus returned to a competitive game on Monday after 222 days, his colleagues had the game has long been decided. Sancho had converted a hand penalty (14th), Hazard a free kick after the emergency brake on Haaland and red for Dominic Volkmer (38th), Axel Witsel extended a free kick from Reyna into the goal (50th). Bellingham had also met immediately (30.) The teenager posted a picture and picture on Instagram at midnight. When shooting at goal, celebrating goal and so on. However, the Englishman had to atone for a youthful lack of restraint and was replaced. "Of course" he took him off the field because of his yellow card for hitting the ball, said coach Lucien Favre. Seemingly almost indignant that anyone could have considered any other reason: "I didn't want him to see a second yellow card," said Favre. Then he raved about his next exceptional talent, who had "good acceleration", "but was also very good defensively". To then slow himself down: "But he's only 17."