Media: Real are planning a major attack on Bundesliga stars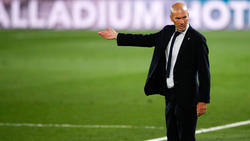 Even the otherwise generous royal from Madrid will probably hold back on the transfer market this summer. The plans of the Spanish record champions for the summer of 2021 are all the more ambitious. The focus should be on several stars from the Bundesliga.
According to Spanish media, Los Blancos are planning a major attack on the European transfer market for the coming summer. The "Don Balon" portal claims to have got its hands on the unofficial wish list from Real trainer Zinédine Zidane.
At the top of the list is world champion Kylian Mbappé. The Frenchman is and will supposedly remain the number one transfer target. After the 21-year-old even announced his plans to move to the PSG bosses a few days ago, according to the "Times", hopes of a transfer in the Real executive suite are said to have risen again. Youngster Eduardo Camavinga from Stade Rennes should also be directed to the Bernabéu become. The newspaper "ABC" reported a few weeks ago that the 17-year-old was originally supposed to come this summer, but the transfer had to be postponed for a year due to the effects of the Corona crisis. Four Bundesliga stars on Zidane's wish listIn addition to the two Stars from Ligue 1, Zidane has allegedly also kept an eye on four Bundesliga stars. One of them is Jadon Sancho. However, the Englishman should only be targeted if the hoped-for transfer from Mbappé fails. Regardless of any other personnel, however, Los Blancos want to seek Erling Haaland. According to "Don Balon", the bosses trust the young BVB striker to have a world career. However, they want to wait and see if the Norwegian can build on his incredible form from the weeks before the Corona crisis. In addition to the two Dortmund stars, Real has allegedly also had an eye on David Alaba. The Austrian in the service of FC Bayern could finally already be available this summer, but possibly even free of charge next summer. Last but not least, Leipzig's Dayot Upamecano is allegedly on the wish list of the Spanish record champions. The defender is being "closely watched", oracles "Don Balon". Club boss Florentino Perez is already working on some of the transfers mentioned. However, names are not mentioned.